BNP Paribas Portugal brings #JamaisSansElles movement to Portugal
November 10, 2022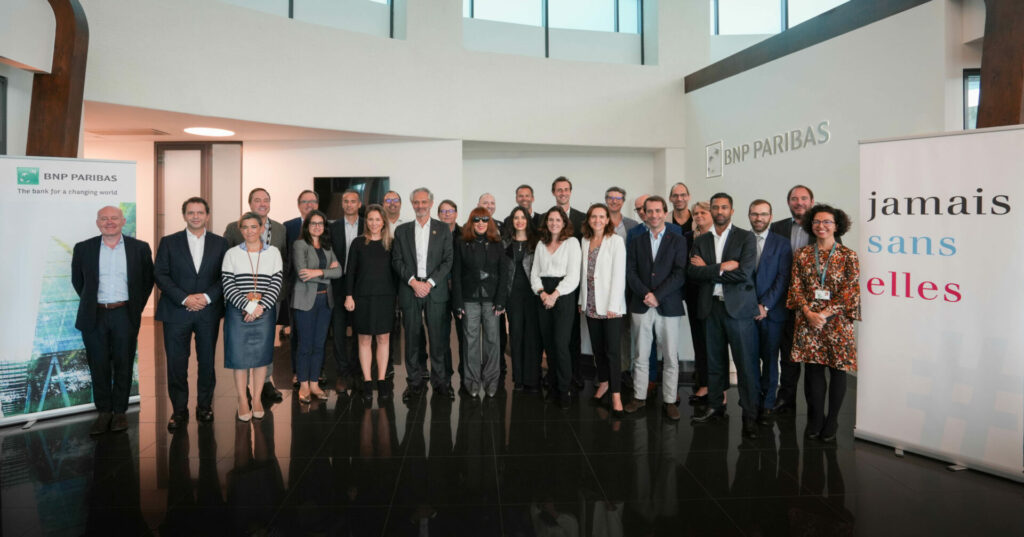 BNP Paribas is the first company in Portugal to integrate the movement through its Top Managemnt Team.
Lisbon, 10 November 2022– Today BNP Paribas Portugal Top Management Team signs, individually, the letter of the movement #JamaisSansElles that acts in favor of equality in all areas of society and for a shared governance model.
Launched in Paris in 2016, #JamaisSansElles is a humanist movement, promoted by about 1000 signatories' men and women, entrepreneurs, humanists, references from the digital world and the media, as well as people linked to the education sector and politics, who, used to participate in public discussions and events, and now refuse to participate in panel discussions/debates in which women are not included.
The #JamaisSansElles is present in 20 countries, influencing, on average, about 23 million people monthly through the different actions of the movement. 630,000 commitments have already been made on social networks, and 30 events have been organized by the #JamaisSansElles organization.
"In France, BNP Paribas was a pioneer by joining #JamaisSansElles, so in Portugal, we also wanted to make our mark, as the issue of gender equality has guided BNP Paribas' actions for several years. We want to underline this position in Portugal and contribute for a sustainable society where men and women have equal opportunities that may arise during their careers", says Fabrice Segui, CEO of BNP Paribas in Portugal.
The signing of the movement's principles was celebrated on November 10 with the presence of Caroline Courtin, Global Head of Diversity & Inclusion, Natacha Quester-Séméon, Managing Director and Spokesperson of #JamaisSansElles and Tatiana F. Salomon, Association President of #JamaisSansElles. "We are the first company to sign this letter of commitment in Portugal with #JamaisSansElles, but we hope that other organisations will do so in the future by contributing to the reach of one of the 17 sustainable development objectives of 2030: Gender Equality", says Luciana Peres, Director of CSR and Diversity and Inclusion at BNP Paribas.
More than 15 years ago, BNP Paribas Group created a dedicated Committee of 40 Diversity Directors, representing the 68 countries where it operates and all business lines. Today, one-third of the Executive Committee and G100 members are women, with the bank aiming to reach a 40% representation of women by 2025.
BNP Paribas was one of the first companies to sign the Women Empowerment Principles (WEP)" in partnership with the HeForShe of the UN, which promotes gender equality worldwide by mobilizing men to work for this cause.