BNP Paribas in Portugal is certified as a Top Employer 2023 for the first time
January 19, 2023
BNP Paribas is Top Employer Europe 2023 for the 10th year running
Top Employers Institute certification recognises best HR management practices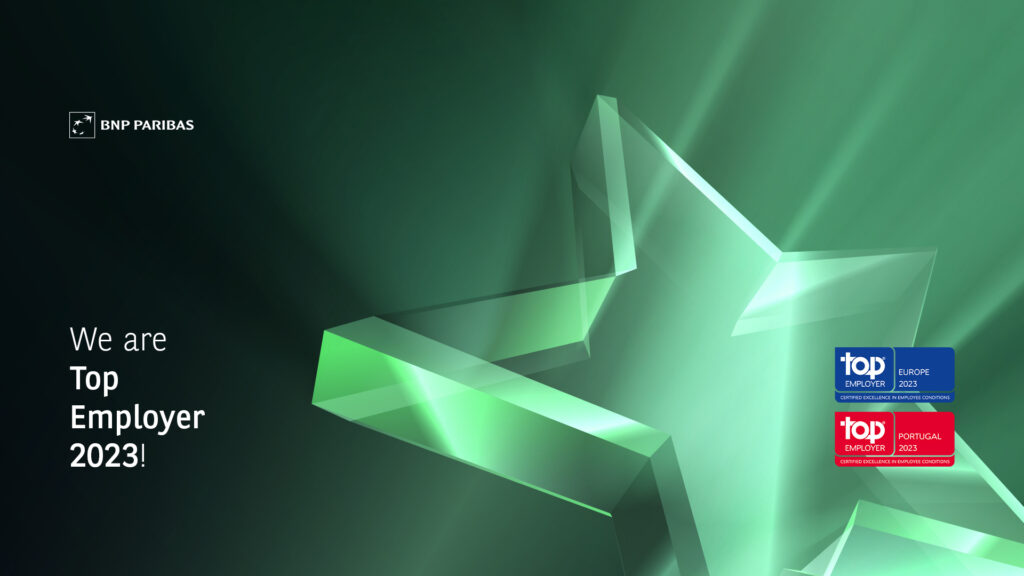 BNP Paribas in Portugal has been recognised, for the first time, a Top Employer in 2023. This was revealed by the Top Employers Institute, the biggest Human Resources practice certification entity around the world. BNP Paribas has thus taken on the challenge of passing the audit covering 20 themes related to Human Resources to certify that its value proposition is worthy of this recognition, not only at European level but also locally in Portugal.
Top Employer has specifically highlighted BNP Paribas practices regarding benefits for employees, the Bank´s internal career mobility, the Smart Working framework, based on trust and autonomy, and its Diversity, Equity & Inclusion networks that foster a safe, open and supportive environment for everyone.
In the Rewards & Recognition category, the Bank achieved a rating of 89.5%[1] (+15.69% compared to the benchmark of Top Employer certified companies in Portugal in the Banking & Financial services industry). On the Employer Branding category it was awarded with a rating of 98.55% (+11.75% compared to the benchmark) and in the Learning category with a rating of 85.79% (+6.24% compared to the benchmark).
"BNP Paribas in Portugal has been recognized as an employer of reference. The achievement of this seal is a reflection of a continuous commitment to the personal and professional development of our employees, as well as the initiatives we have put in place to foster talent and put people at the heart of our strategy", says Sylvie Le Pottier, Head of Human Resources for BNP Paribas Portugal.
BNP Paribas is Top Employer Europe 2023 for the 10th year running. This is the result of the Group's certifications in nine countries: Belgium, France, Italy, Luxembourg, Poland, Turkey, Spain, Germany and Portugal (certified for the first time). Following an audit built around 350 questions on 20 themes in each country, the global average score resulted in a total of 88,75%.
The distinction awarded by the Top Employers Institute allows BNP Paribas Portugal to integrate a community of Top Employer companies in 123 countries, which makes it possible to share best practices in the area, with insights contributing to the continuous development of the Human Resource environment and helping to detect performance enhancement opportunities.
---
[1] Percentage of best HR practices applied by each company. With a score of 89.5%, this means BNP Paribas in Portugal applies at least 89.5% of HR best practices in this category.